Venetia author Tiziano Scarpa said: "Getting lost is the only place worth going to."
If you've been to Venice you know what I mean. It's like mardi gras meets Harry Potter's Hedge Maze from Goblet of Fire. I bet there have been people trapped here for years.
Frida Giannini, Creative Director of the Italian fashion house Gucci, had this to say about Venice: "Venice never quite seems real, but rather an ornate film set suspended on the water."
Venice has immense charm. In fact, it's so overwhelmingly charming you become suspicious of it until after hours of exploring, you realize it's not hiding a thing.
The main attraction in Venice is the Piazza San Marco. I arrived there by foot after jostling and leap frogging thousands of other visitors – Americans, Russians, Germans, and few Italians here and there. In one swoop you can experience St. Mark's Basilica (Basilica di San Marco), Doge's Palace, and Torre dell'Orologio. Napoleon apparently referred to this area as the 'drawing room of Europe'. This is Venice's version of Times Square. You can even buy a knock off Gucci bag (sorry Frida Giannini!).
If you emerge from this area with your camera, wallet, dignity and patience, then you did alright in my book. I had experienced the heart of Venice, I needed it's arteries, capillaries and veins. And some space. I found that around the corner on the bridge leading to the Accademia Gallery. What a view.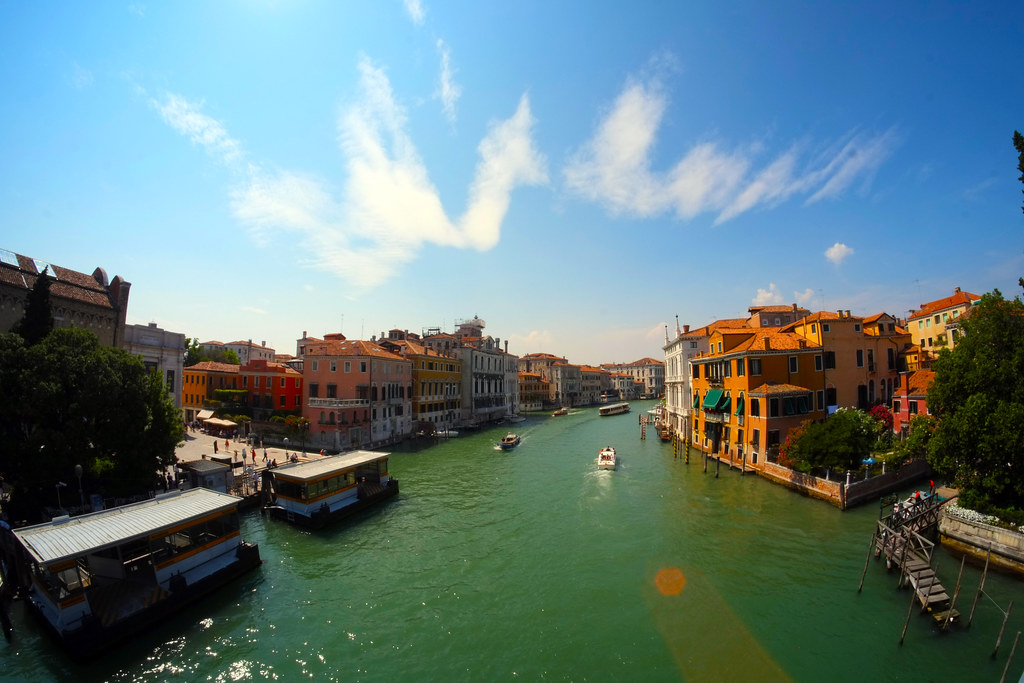 Here's what Italian Romantic Composer (of course he was) Giuseppe Verdi said about Italy: "You may have the universe if I may have Italy".
Now I'm no Giuseppe Verdi, but in all my travels, I've not found anything that really compares to Italy. Even if you combined Paris with Cannes with San Francisco with Madrid – I'm not sure it would surpass or come close. It's hard to put a finger on it. But I did put my finger on my shutter button. Check these out.
I felt incredibly lucky to be wondering with my camera and lenses and complete freedom. Venice can confuse and trick, but it can also lead and unravel before your eyes. She's a goddess.
Hours of walking and scenic over-saturation led me to a very quiet moment. An empty courtyard, with no one around but history and the previous footsteps of Verdi, Scarpa, Giannini and many more famous people than me. I have no idea how I arrived here or how to get back. Now that's Venice. (lots more photos here, btw).